New Mercedes-Benz A-Class' tech may give Silicon Valley a run for its money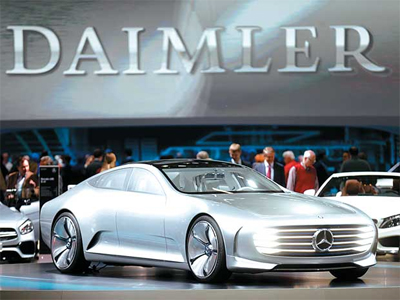 Daimler's new Mercedes A-Class, unveiled on Friday, includes the German automaker's own machine-learning and voice recognition technology in one of the industry's boldest attempts so far to take on Silicon Valley's finest.
The Mercedes "MBUX" dashboard system to be rolled out across the lineup is about as capable at understanding what you say - and more importantly what you mean - as Amazon's Alexa, Apple's Siri or Alphabet's Google Assistant.
Its debut comes as carmakers are embroiled in a tech arms race, raising questions about the ultimate profitability of new services that often duplicate those available on smartphones. Daimler itself warned on Thursday that 2018 profit growth would be dampened by technology investment.
Carmakers, especially premium manufacturers, are resisting the encroachment of tech giants on several fronts including autonomous driving and connected services - whose commercial potential multiplies with voice recognition and assistance.
"It's fine to have Google or Amazon voice apps sitting alongside the main one, but no car company wants the voice activation that controls the air con to be Alexa," said Mike Ramsey, a Detroit-based analyst with tech research firm Gartner.
The Daimler system "narrows the gap with tech," Ramsey said. "If it works as advertised, Mercedes will have set a new standard and given hope to other automakers that they can build a voice interface that actually works like Siri or Google."
Mercedes is updating its A-Class with a new look and engines, roomier interior and semi-autonomous driving features that can help pilot the car in highway traffic.
But its biggest draw is the MBUX system, presented on two large horizontal touch-screens that dispense entirely with dashboard instruments.
It uses artificial intelligence to make sense of commands and even anticipate them by learning the preferences and habits of up to eight different users. Spoken instructions can command everything from navigation to infotainment.
Other auto brands have taken a more affordable approach, often using "mirroring", which grants access to smartphone apps via a touch-screen interface.
Some also route vocal commands straight to Siri, Alexa or Google.