Mercedes to step on the gas to push R&D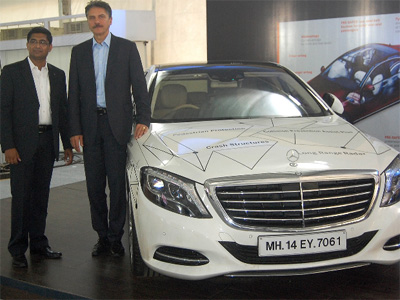 The Indian research and development wing of global luxury car maker Mercedes-Benz plans to recruit another 1,000 people next year to further its research and development (R&D).
Currently, the R&D staff in India accounts for 3,500 people, up from 700 only five years earlier.
Manu Saale, managing director of Mercedes-Benz Research and Development India (MBRDI), says they're undertaking important assignments to develop safety features.
"We carry on R&D not just for luxury cars but for trucks, buses and vans from the Indian R&D centre," he said.
MBRDI was originally established as a research institute with only 10 employees about 20 years before, then named Daimler-Benz Research Centre India Pvt Ltd. It grew to become a 3,500-strong organisation, the largest R&D centre (in headcount) for Mercedes-Benz outside its headquarters in Germany.
In 2007, after the Daimler-Chrysler merger, MBRDI began working on key components for Mercedes-Benz passenger cars. Mercedes-Benz, through MBRDI, currently owns 500 patents in this country. Started in Bengaluru in 1996, it studies areas ranging from computer-aided design and simulations for power train, chassis and exteriors to embedded systems, telematics and developing various information technology applications and tools.
Last year, the company extended the MBRDI centre to Pune in Maharashtra. Technologies developed in India, such as on combustion, power transmission and car designs, have been used in car models globally.
"There is a bit of India in every Mercedes-Benz cars," says Rodolfo Schoeneburg, director of development, safety, durability and corrosion protection at Daimler AG. He said Daimler AG Group, which owns the Mercedes-Benz brand, trains Indian engineers at its Stuttgart facility in Germany. "After the training, they are sent back to India and in turn train others," he said.