Global energy giants line up for BPCL sale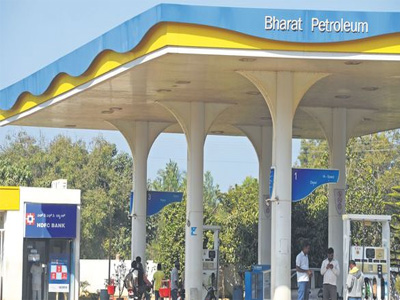 Mumbai: Saudi Aramco, Rosneft, Kuwait Petroleum, ExxonMobil, Shell, Total SA and Abu Dhabi National Oil Co. are among companies that have had conversations with the government on asset sales and are likely to bid for the government's stake in Bharat Petroleum Corp. Ltd, two people aware of the matter said.
"While a formal interest from the potential bidders is expected in due course, all the above names are part of the list that the government will reach out to," said one of the two people cited above, both of whom spoke on the condition of anonymity.
The privatization of BPCL is expected to attract global energy majors given that India is the world's fastest-growing major oil market. The proceeds from the sale will also be crucial for the government to contain its fiscal deficit amid lower-than-expected goods and services tax collections and a corporate tax cut that will cost the exchequer ₹1.45 trillion.
The Department of Investment and Public Asset Management (DIPAM) is in the process of hiring investment banker, legal adviser and asset valuer to execute the stake sale. "DIPAM would appoint an adviser and a valuer in November. The valuation report is expected to be submitted in 50 days," the second person cited above said.
A spokesperson for Shell India said it does "not comment on market speculation." A New Delhi-based spokesperson for ExxonMobil said, "We do not comment on market rumours or speculation about our business plans. ExxonMobil continuously evaluates its global portfolio of businesses and opportunities for growth, restructuring or divestment, depending upon fit with its overall strategic business objectives."
Requests for comment sent to Saudi Aramco, Rosneft, Kuwait Petroleum, Total and Abu Dhabi National Oil Co. remained unanswered until press time on Sunday.
The companies are likely to bid for the government's 53.3% stake in state-run BPCL either on their own or as part of a consortium.
"We expect significant interest for the government's stake in BPCL. The company's downstream business is quite promising and is the most professionally run organisation among oil marketing companies. It is a good bet for any company that plans to have a foothold in the Indian market," said the first person cited above.
The government plans to meet at least a third of its ₹1.05 trillion disinvestment target by selling its stake in BPCL.
A core group of secretaries on divestment approved the privatization of BPCL on 30 September.
Technical bids by potential advisers, legal advisers and valuers for the privatization move are scheduled to be opened on 4 November and presentations by the eligible bidders for acting as an adviser for the privatization of BPCL would be held within one week of that. Financial bids of the shortlisted bidders will be opened shortly.
"Rosneft, which acquired Essar Oil, and BP Plc, which announced a 49% stake in oil marketing joint venture with RIL, is likely to bid. Kuwait Petroleum (bid for IBP, was shortlisted to bid for HPCL in 2003 and wants to acquire downstream assets in Asia), Total SA (to invest $800m in Indian gas sector), ExxonMobil, Shell (second highest bidder for IBP) and ADNOC may also bid for BPCL," Vidyadhar Ginde, an analyst at ICICI Securities, said in a 14 October report on BPCL's privatization.
BPCL was nationalized in 1976 by an Act of Parliament after being set up in the 1920s as Burmah Shell, an alliance between Royal Dutch Shell and Burmah Oil Co and Asiatic Petroleum (India).
This is not the first time that a Bharatiya Janata Party-led government has mooted the privatization of BPCL.
A similar attempt in 2003 by the Atal Bihari Vajpayee government was scuttled by the Supreme Court, which had then ruled that the privatization required parliamentary approval. The Narendra Modi government which enjoys a majority has repealed the legislation, clearing the way for the stake sale.
The government had earlier sold its stake in Hindustan Petroleum Corp. Ltd to state-run Oil and Natural Gas Corp. Ltd at a roughly 18% premium to prevailing prices. Analysts say the premium can be much higher in the case of privatization.