Mercedes focus on AMG range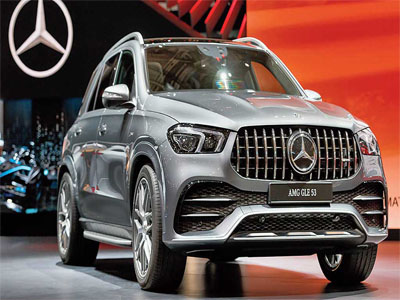 Mercedes Benz India is trying to popularise its performance brand AMG by focussing on the AMG 43 range which sports smaller but powerful engines and are affordable.
The company, which is due to launch 10 models this year, will have four new AMG offerings, including the recently launched AMG C43 Coupe.
"Since its inception, the AMG portfolio in India has steadily grown and currently we offer 14 AMGs to the customers. The introduction of the AMG 45 and AMG 43 lines were strategic moves to ensure we make Mercedes AMG more accessible and affordable to more customers," Martin Schwenk, MD & CEO of Mercedes Benz India, said over email to The Telegraph, after the launch of the C43 AMG in Delhi.
Calling its AMG portfolio the widest in the performance car segment in the industry, Schwenk said: "We have been redefining the performance segment. Our AMG cars combine performance with practicality of daily use. You can take the AMG car to your office as well as you can test it out on race tracks."
Making the AMG more affordable was the strategy behind the success of the brand. While the GT range is priced over Rs 2.4 crore, the 63 AMG is priced over Rs 1.3 crore and the 45 and 43 lines are priced between Rs 75 lakh and Rs 80 lakh. The AMG 43 line is available in C43 Coupe, GLE 43, GLC 43 and SLC 43. The new Mercedes-AMG C43 Coupe retails at Rs 75 lakh.
On the AMG brand's contribution to the annual sales of Mercedes in India, Schwenk said: "AMGs are high-end products that cater to a niche segment of customers. However, we have witnessed the widening of the customer base with the introduction of the 43 range in recent years."
According to industry sources, the performance car industry in India is estimated at 600 units annually and Mercedes AMG has a 50 per cent market share.
The company has 14 AMGs in its portfolio of which four are from the 43 range and this has been crucial in making the AMG brand more accessible and affordable to the customers.
On the growth in the AMG brand, the CEO said: "We have seen AMG growth in double digits and we expect this to continue with the introduction of more AMG models this year. In India, we have a holistic mix of the 63, 45 and 43 lines, making it a comprehensive portfolio to choose from."