Mercedes-Benz India management changes: Martin Schwenk to replace Roland Folger as MD & CEO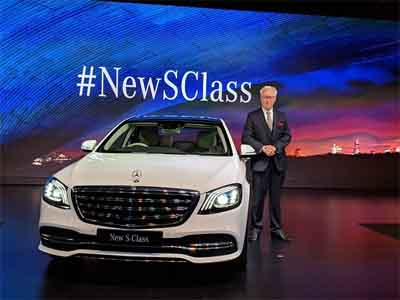 German luxury car maker Mercedes-Benz has announced changed in its top-management and Roland Folger who currently heads the company's operations in India will be replaced by Martin Schwenk starting November 2018. Martin Schwenk is currently the CFO of Mercedes-Benz China operations and will the Managing Director & CEO of Mercedes-Benz India.
Roland Folger is handed over the duties of for Mercedes-Benz's Thailand & Vietnam markets. Mr Folger has been heading Mercedes-Benz India since last 3 years and took charge from Eberhard Kern in 2015. He played a key role in driving in growth for the company and ensured smooth sales even during difficult times (ban of diesel SUVs in Delhi, increase in cess on luxury cars etc). He also ensured timely roll out of new key products like the Mercedes-Benz E-Class Long Wheelbase and it was under his leadership that Mercedes-Benz India sales crossed 15,000 sales milestone.
Roland Folger, Managing Director & CEO, Mercedes-Benz India commented, "My India stint will remain memorable with rich experiences and fond memories. The warmth of our customers and people, the diversity of the country's culture, and the unique business opportunities and challenges that this market presents, is enormous and truly enriching. I am very satisfied with Mercedes-Benz India's strong leadership position in the market and our relentless efforts in creating new benchmark in customer delight." Folger ca e to India from Malaysia and heads back to the south-east Asian markets of Thailand and Vietnam. He further said, "While I am eagerly looking forward to my new assignment, there will be a bit of India always inside me."
Martin Schwenk comes to India after working in China as the CFO of Beijing Mercedes-Benz Sales Service, he has been with Daimler since 1992 and has served for Mercedes-Benz in many countries including Germany, South Africa, Austria and United States. In September 2015, Martin joined the Mercedes-Benz Sales Organization in China as the Chief Financial Officer.
On his appointment in the Indian marker, Martin said that "having worked across in different countries and functions, I am extremely excited for my forthcoming responsibility to head the dynamic India market. India's rich cultural diversity, the young population, the diverse customs, different languages and topography together with its importance as a future economic powerhouse; makes it a compelling market to grow the business. It is a privileged opportunity for me to head the business of the most iconic and successful luxury motoring brand, in one of the most vibrant markets in the region. With my experience across various business divisions, I am looking forward to pursuing the 'Indian story' further and make the foundation of Mercedes-Benz even stronger in India. We have a fantastic winning team comprising our people and investors with proven records, and I am eager to be part of this winning team."