How street lamps could charge Electric Vehicles: Siemens invests in this start-up for EVs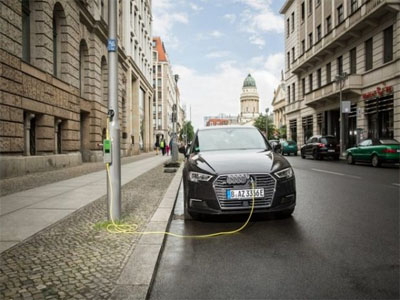 In order to achieve the goals set at the 2017 Paris Climate Accord, The International Energy Agency (IEA) says there need to be about 100 million electric cars on road globally by 2030. It believes that one-fifth of all vehicles in the world (including two-wheelers, buses, trucks and cars) should run on batteries. France has already hinted on banning cars with a combustion engine in Paris by 2030. European Union (EU) plans to have 30% of all new vehicles to either be all-electric or hybrid to reduce emissions.
With electric mobility taking the centre stage globally it is not only important to have renewably-generated electricity to power these electric vehicles but also to have public charging stations placed in the right places. The idea is to convert the parking time into charging times using renewable energies. A Berlin-based startup, Ubitricity has now developed a technology that will enable EV owners to charge its vehicles from almost any location. The company plans to integrate a smart electric meter that is linked to the charging cable and power sockets that can be installed anywhere.
It is like creating a docking station on the power grid, the company calls these as SimpleSockets. These outlets are affordable and can be installed in parking garages, residential and commercial buildings and more importantly on existing infrastructure such as street lamps. This could serve as a great move towards reducing the range anxiety, which is one of the primary reasons responsible for holding back people from investing in EVs.
Electric vehicle users simply need to park next to a street lamp equipped with the required technology to charge his/ her car and use the mobile application to do the payments. The company has already tested these London where about 12 such street lamps were put on trial. The company says it takes about 30 minutes and €1000 to convert a street lamp into a charging station.
Dr. Frank Pawlitschek, CEO and Co-Founder, Ubitricity says that "at least one to two percent of the 10 million street lamps in Germany could be converted immediately. It is inexpensive to recharge batteries right outside their front door."
Siemens has invested in Ubitricity as the company believes that the start-up's technology idea plugs into a number of Siemens' business activities. "Ubitricity technology uses digitalisation in the energy field in a targeted manner and opens up completely new business models in the future market of energy services for electromobility," says Moritz Ingerfeld, Head of Business Development eCharging at Siemens Energy Management.