Mercedes-Maybach SUV revealed: Here's what's special about the 'Ultimate Luxury' all-electric concept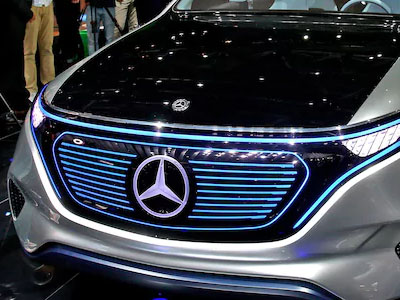 Before its official unveiling at the Beijing Motor Show, Mercedes-Maybach's latest SUV concept has been revealed inside out in a set of leaked images. Mercedes-Maybach Ultimate Luxury concept is a very offbeat design - a high-riding four-door sedan with a trunk, unlike a traditional SUV. The fascia is marked by a big waterfall grille flanked by low, aggressive three-unit headlights, and the overall styling is a combination of SUV ruggedness and luxury. The Ultimate Luxury mixes design of a three-box sedan that also recognises as an SUV. It will rival the likes of Bentley Bentayga and upcoming Rolls-Royce Cullinan.
While the styling is definitely unique, what's more interesting is that the fully grown SUV has an all-electric powertrain. The all-wheel-drive of the Mercedes-Maybach Ultimate Luxury SUV is propelled by four electric motors with a combined output of 750 hp.
The battery on the Mercedes-Maybach Ultimate Luxury SUV is a flat underfloor design and makes 80 kWh which is good for 320 km between charges. The top speed will be limited to 250 km/h. There's DC fast charging at up to 350kW, meaning that the range can be boosted by 60 miles in just five minutes, and induction charging is also available.
On the inside, the Mercedes-Maybach Vision Ultimate Luxury has a wide center console with stylized grab handles, which suit an SUV sense of dimensions but don't look as trucklike as the Maybach G650 Landaulet's interior.
It also gets two-tone colour scheme I the cabin and a touch of wood on the door panels, along with a wide colour instrument display ahead of the driver. The gear selectors are paddle shifters next to the chunky steering wheel rim.
The Mercedes-Maybach Vision Ultimate Luxury concept will be followed by a 2019 production version, slated to debut at the Los Angeles show at the end of this year. It would be based on the Mercedes-Benz GLS, but with a more bespoke design inside out, as hinted by the concept.