Rabri Devi skips ED summons for third time in IRCTC hotels case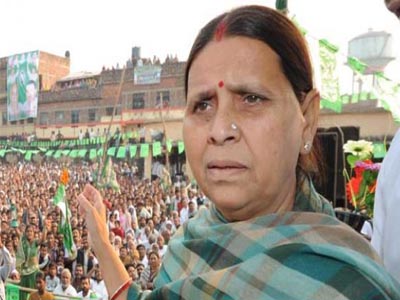 RJD Chief Lalu Prasad's wife and former Bihar Chief Minister Rabri Devi on Monday skipped the ED summons for the third time in connection with alleged irregularities in a 2006 IRCTC hotels maintenance contract case.
The Enforcement Directorate on October 11, had summoned Rabri Devi after she failed to appear before it last Wednesday.
A day before that the financial probe agency had grilled her son and former Deputy Chief Minister Tejashwi Yadav for over nine hours in connection with alleged irregularities in the IRCTC contract case.
He was questioned by the ED officials four days after he was questioned by the Central Bureau of Investigation (CBI) for seven hours in connection with the case.
Lalu Prasad was also questioned by the CBI officials for over eight hours in the case.
An ED official told IANS: "We shall again summon Tejashwi and Rabri Devi for questioning in the case."
The official also said that Tejashwi Yadav has asked the agency's officials for eight-weeks time to appear before it again.
"However, we would call him soon next week," the official added.
The ED had, on July 27, registered a separate case under the Prevention of Money Laundering Act following the CBI FIR in the matter and began probing Lalu Prasad and others for alleged transfer of money through shell companies.
The CBI, on July 5, filed a corruption case against Lalu Prasad, his wife Rabri Devi and Tejashwi Yadav for alleged irregularities in the allotment of contracts for Indian Railway Catering and Tourism Corporation (IRCTC) hotels in Ranchi and Puri in 2006 to a private firm when the RJD chief was the Railway Minister.
The contracts were given to Sujata Hotels, a company owned by Vijay and Vinay Kochhar -- both named in the CBI FIR as accused -- in lieu of a bribe in the form of a three-acre commercial plot at a prime location in Bihar's Patna district, the CBI said.
A preliminary CBI inquiry found that the land was sold by the Kochhars to Delight Marketing Company and payment was arranged through Ahluwalia Contractors and its promoter Bikramjeet Singh Ahluwalia, another accused person. The ED has since questioned Ahluwalia.
Delight Marketing, which bought the property from the Kochhars, was later taken over by Rabri Devi and Tejashwi Yadav, alleges the CBI.
Sarla Gupta, the wife of the Rashtriya Janata Dal chief's close associate and former Union Minister Prem Chand Gupta and a director of Delight Marketing, is a co-accused in the case, apart from then IRCTC Managing Director P K Goel.