Waterfalls Image Gallery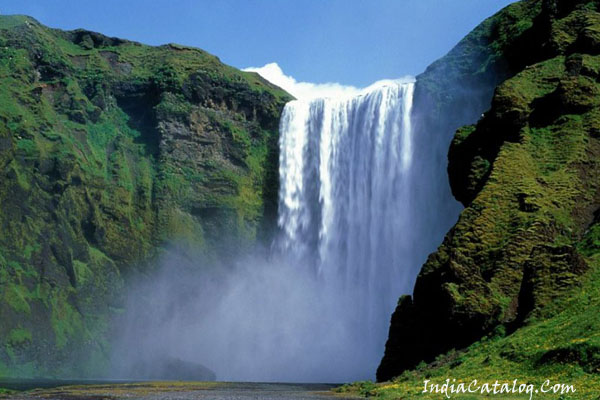 Dudhsagar Falls is a tiered waterfall located on the Mandovi River in the state of Goa, India, on Goa's border with the state of Karnataka. It is 60 km from Panaji. Dudhsagar Falls is listed as India's 5th tallest waterfall,and is 227th in the world at 310 m. World's one of most exquisite fall lies in India.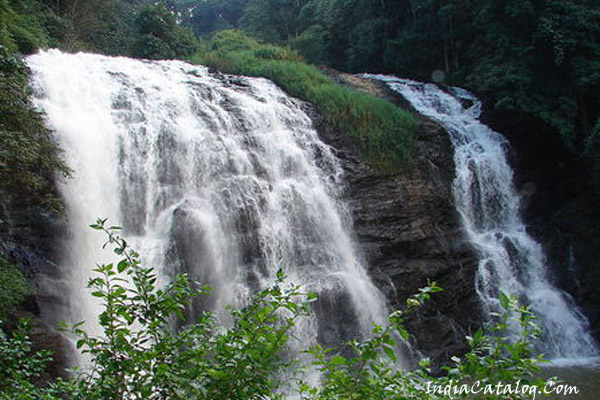 Abbey Falls is in Kodagu, in the Western Ghats in Karnataka, India. It is located 8 km from the town of Madikeri and 268 km from Bangalore. The waterfall is located between private coffee plantations with stocky coffee bushes and spice estates with trees entwined with pepper vines.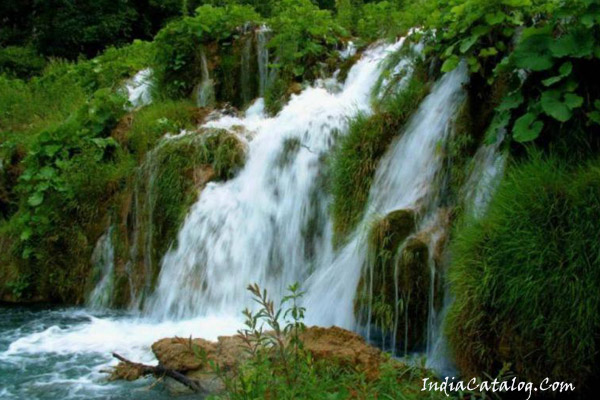 This is a Waterfall at Cherrapunji, Meghalaya, the land of clouds.Once Cherrapunji recieved the highlest rainfall throughout the year. Seven Sisters Waterfall is a beautiful and famous waterfall in Meghalaya. Cherrapunji,meghalaya in India has numerous big and small waterfalls, which turn majestic after the rainy season.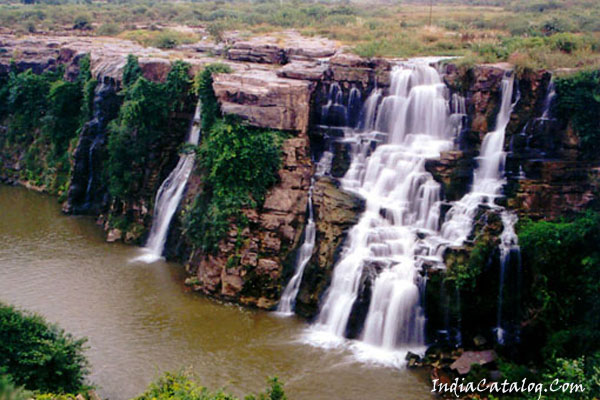 Ethipothala Waterfalls is among the rising tourist attractions in Andhra Pradesh. Ethipothala Waterfalls are formed from the combination of three streams Chandravanka Vagu, Nakkala Vagu and Tummala Vagu, all tributaries of River Krishna. The water at this point falls from a height of about 21 metres (about 70 feet) forming a small lake at its foot.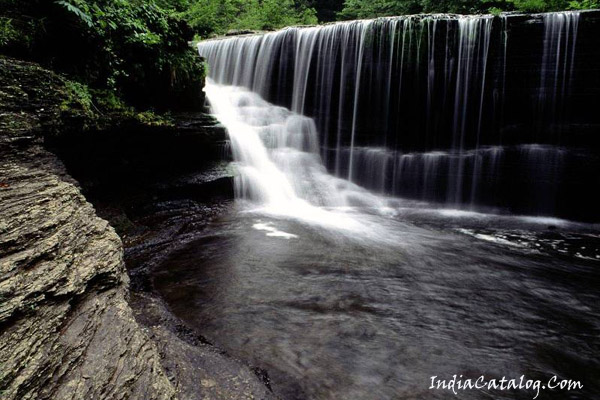 Greeter Falls, Cumberland Plateau, Tennessee. Greeter Falls is located in Grundy County near the town of Altamont and was named for the Greeter family, which owned a nearby homestead. Greeter Falls was the first waterfall stop on a recent trip to the Cumberland Plateau and an all-around learning experience in terms of traversing the rugged landscape, caring for camera equipment in a moist environment and exposing the cascading water properly.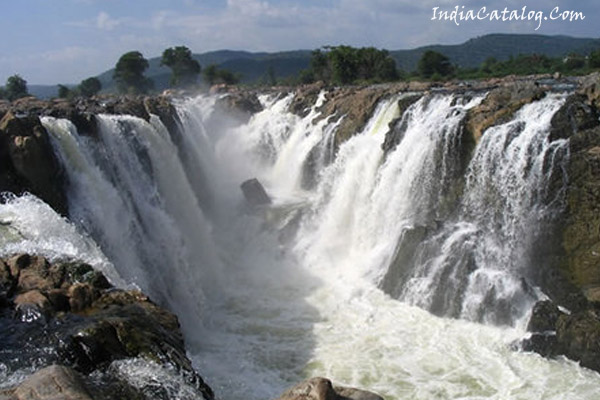 Hogenakkal Waterfalls often referred to as "Cauvery" or "Kavery" or "Kaveri" by locals and the people of Krishnagiri and Dharmapuri districts in tamilnadu, India where it is situated. Hogenakkal is also described as the 'Niagara' of India, offer an exciting holiday destination for Indians and foreigners alike. Hogenakkal is a beautiful place with picturesque scenes.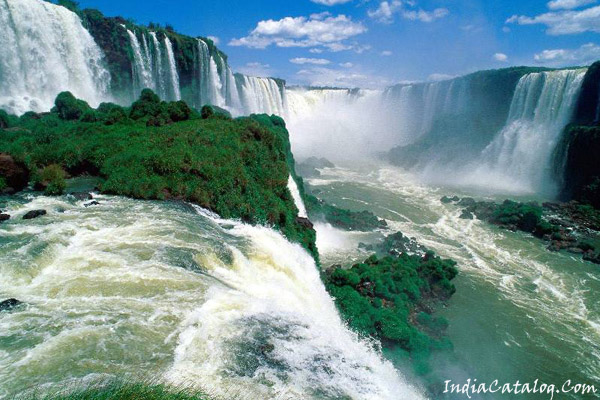 Iguassu Falls are waterfalls of the Iguazu River located on the border of the Brazilian State of Paraná and the Argentine Province of Misiones. The falls divide the river into the upper and lower Iguazu.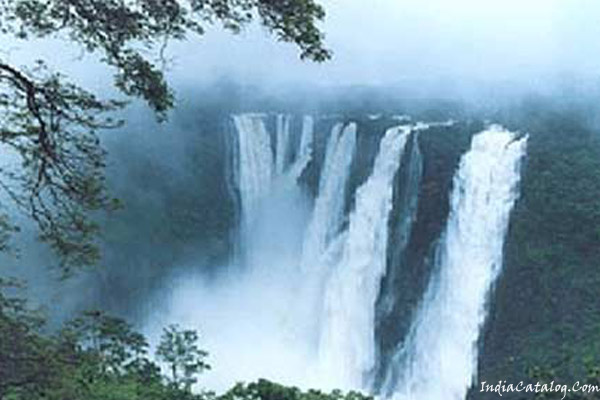 Jog Falls created by the Sharavathi River falling from a height of 253 m (830 ft) is the second-highest plunge waterfall in India Located in Sagara, Karnataka Shivamogga District of Karnataka state, these segmented falls are a major tourist attraction. It is also called by alternative names of Gerusoppe falls, Gersoppa Falls and Jogada Gundi.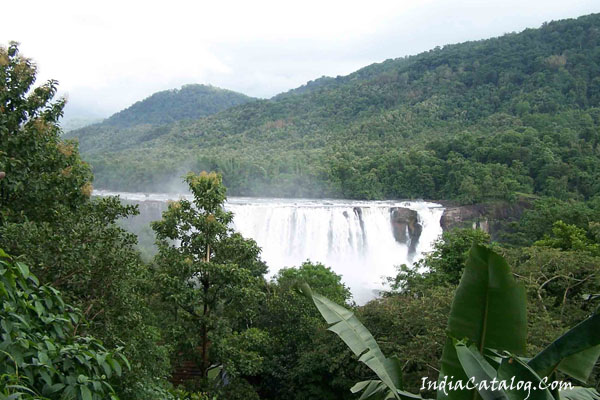 Vazhachal Falls is a rushing waterbody joining Chalakkudy River in the Thrissur district of Kerala state, south India. It is located 36km from Chalakkudi and 5km from Athirappilly Falls. The riparian forests of the Chalakudy River have revealed the existence of a thick riparian vegetation of more than 10 metres width for a distance of 10.5 km downstream from Peringalkuth, covering an area of 58.5 hectares.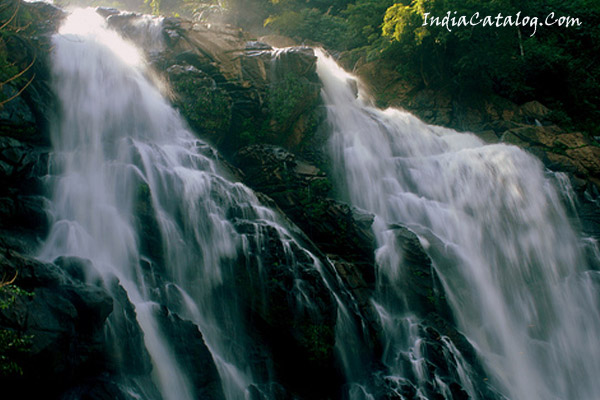 Meenmutty Falls is located 29 km from Kalpetta in Wayanad District in the state of Kerala, India. It is a three-tiered waterfall with a height of 300 metres. Meenmutty Falls, the largest and most spectacular waterfall in the Wayanad District, is a 2 km hike though the jungle from the main Ooty Road. It is Kerala's second largest waterfall and the one most unspoiled in its natural setting.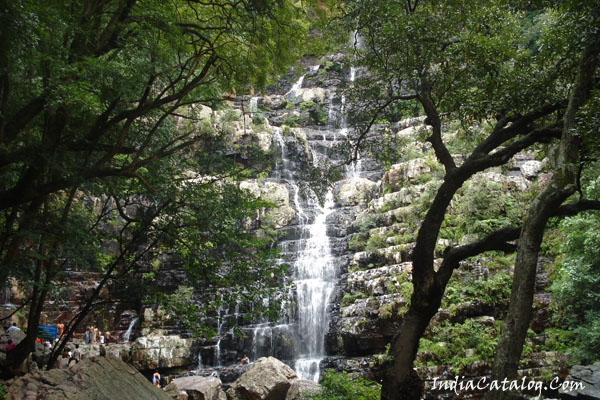 Talakona waterfalls is located 50 kms from Tirupati, near Kodur in Cuddapah district of Andhra Pradesh, India. Talakona has the most wholesome and serene atmosphere. According to the local residents, it is said that the origin of water is difficult to be traced out since an underground stream suddenly surfaces here and this water has healing properties since it passes through lot of herbs of medicinal values.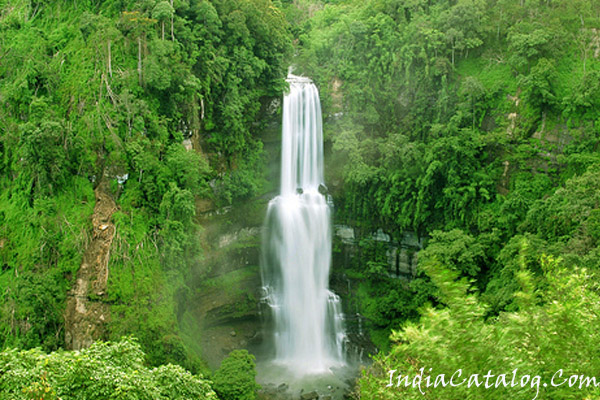 The Vantawng Falls is located 5 kilometres south of Thenzawl in Serchhip district in the Indian state of Mizoram. It is the 13th highest waterfalls in India. It is a two-tiered waterfall with a total height of 229 metres (751 ft). The waters make a gurgling sound on the way down, splashing stray droplets of water on the face of the tourists who stand underneath to watch the descent of the Vantawng Falls.
Previous
Next