Ford cedes control to Mahindra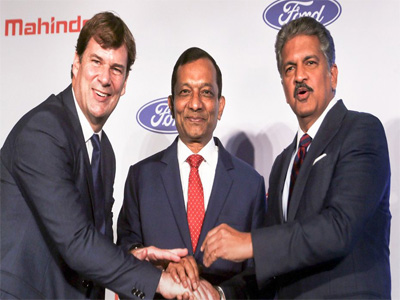 Mahindra & Mahindra (M&M) on Tuesday has announced the acquisition of a majority stake in a wholly-owned arm of Ford Motor Co (FMC) that will take over the automotive business of the US auto major in India. The majority stake has been acquired as a going concern on a slump-sale basis for Rs 657 crore, an M&M release said.
The new entity will develop, market and distribute Ford brand vehicles in India.
The deal would end the US auto major's two decade long struggle to win over customers in the country competing with homegrown Maruti Suzuki and Korean Hyundai Motor.
The joint venture — in which the Mahindras will hold 51 per cent and Ford Motor Company, 49 per cent — will also sell both Mahindra and Ford cars in the emerging markets.
M&M will acquire the 51 per cent stake in the wholly-owned arm of Ford Motor — Ardour Automotive Private Ltd — for around Rs 657 crore, the Indian firm said in a regulatory filing.
The balance 49 per cent equity shareholding in Ardour will be held by Ford Motor and/ or any of its affiliates, it added.
Mahindra has put the enterpise value of its stake at Rs 1,925 crore and subtracting debts of Rs 636 crore, the equity value is Rs 1,289 crore. However, since the deal has been done on a slump-sale basis, the Mahindras have paid Rs 657 crore for the stake.
M&M said it was committed to fund in the aggregate for acquiring the 51 per cent stake and for the future operations of the company, an amount not exceeding Rs 1,400 crore — which includes the likely investment of about Rs 657 crores for 51 per cent in the joint venture.
The new venture will acquire the automotive business of Ford India Pvt Ltd (FIPL), a wholly-owned subsidiary of FMC, which has been engaged in the automotive business in India since 1995.
The automotive business to be acquired includes the vehicle manufacturing plants of Ford India in Chennai and at Sanand.
The acquisition will, however, exclude the separate powertrain facility at Sanand, which is essentially used for Ford Motor's global markets, and the powertrain division of FIPL would not form part of the deal.
"The joint venture will drive enhanced competitiveness through greater economies of scale across the automotive value chain, including optimised sourcing, product development, use of relevant technologies and a global network," Ford said in a statement
The joint venture is the next step in the strategic alliance forged between Ford and Mahindra in September 2017 and is expected to be operational by mid-2020, subject to regulatory approvals. The venture will be operationally managed by Mahindra, and its governance will be equally composed of representatives of Mahindra and Ford, it added.
Ford India's automotive business had posted revenue of Rs 26,324 crore in the year ended March 31, 2019.