Reliance Industries (RIL) shares surge, help support Sensex: 10 updates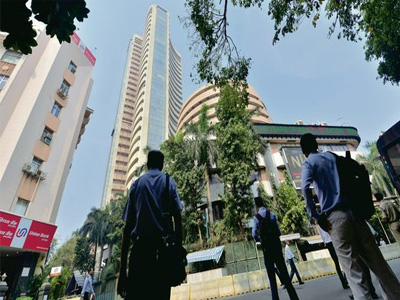 A rally in market heavyweight Reliance Industries or RIL helped support Indian stock markets today. The Sensex had rallied nearly 3,000 points in the previous two sessions on optimism that the corporate tax cuts will lift corporate profitability, private capex and ultimately the broader economy. Many brokerages have upgraded their earnings estimates of India Inc and Sensex targets. At 10:34 am, the Sensex was trading flat at 39,088 while Nifty traded below 11,600.
Here are 10 updates from Indian stock markets
1) Market heavyweight Reliance Industries or RIL today surged 4% to ₹1,291.
2) Some profit-taking was seen in banking stocks after sharp gains in the past two sessions. The Bank Nifty had surged 14% over the previous two sessions.
3) Bank Nifty today fell over 1% with HDFC Bank, Kotak Bank and ICICI Bank falling over 1%.
4) India's biggest carmaker Maruti Suzuki today rose 1% after the company's chairman RC Bhargava that car sales in September are likely to be higher than the previous month.
3) Foreign institutional investors bought Indian stocks in a big way on Monday, putting in a net ₹2,684.05 crore in Indian equities.
4) In terms of market technicals, Nifty has support at in the range of 11400-11300 while the index faces near-term resistances around 11705-11800, said Ruchit Jain of Angel Broking.
5) The Nifty Bank index, which rose about 14% over the past two sessions, has immediate support near 30,300-30,000 zone and resistance near 30800-31000 zone, says Rohit Singre, senior technical analyst at LKP Securities.
6) FMCG, banking and financial services, auto and PSU companies pay higher taxes, so they will be benefitted from the move to cut corporate tax, HDFC Securities said in a note.
7) IT and Pharma will get least benefit out of it, the brokerage added.
8) India's biggest automaker, Maruti Suzuki India expects car sales in September to be higher than the previous month, said chairman RC Bhargava. The nine-day Navaratri festival, which typically witnesses an uptick in sales, begins on September 29.
9) Asian markets ticked higher today after a top US official said that trade talks with China will resume next month but lingering concerns about slowing global growth kept the gains muted.
10) Oil prices fell slightly today to $64.50 a barrel on signs that Saudi Arabia is making progress in restoring lost output but uncertainty remained about the kingdom's ability to meet its timeline of a full return by the end of the month.