Volvo Cars India starts a clean air campaign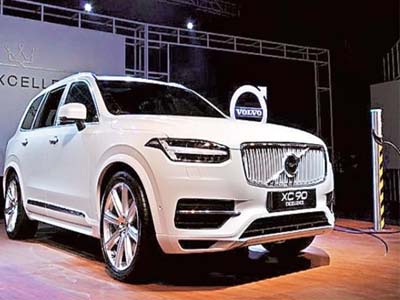 On Friday, Volvo Cars India, the subsidiary of Swedish automaker Volvo Cars, started an initiative towards spreading awareness about clean air in the country. The campaign covers three areas: a school programme, dealership-led initiatives, and developing clean zones.
School programme: The company will hold sessions—in chosen schools across the country—with environmentalists on the effects and causes of air pollution. For schoolchildren, there will be do-it-yourself (DIY) workshops that will include teaching them how to make air-purifiers to create mini clean zones, say, in classrooms or homes.
Dealership-led initiatives: Volvo Cars dealers across India will invite prospects with their children for DIY workshops. The customers who buy Volvo cars will receive a token of appreciation—a plantable seed bag. This bad is made of biodegradable material with post-consumer materials (not by cutting trees), and is embedded with seeds. When the plantable seed bag is planted in a pot of soil, the seeds grow and the paper composts away.
Developing clean zones: Near the festival of Diwali—when air pollution generally soars to high levels, especially in Delhi NCR—Volvo Cars India will create clean zones for Delhi traffic policemen. These will be essentially clean air pods that will be installed at select traffic intersections in New Delhi, where policemen manning the intersections can sit.
According to journal The Lancet, over a million Indians die every year due to air pollution—two deaths every minute.
Charles Frump, the managing director of Volvo Cars India, said this clean air initiative is one of the many measures the company is taking towards sustainability. Others include launching plug-in hybrid electric vehicles (PHEV) in India—last year, the company had launched the XC90 T8 Excellence variant PHEV in the local market. "Globally, we aim to have electric cars making up 50% of our sales by 2025. This ambition builds on our 2017 announcement that all new models released from 2019 onwards will be available as either mild hybrid, plug-in hybrid or battery electric vehicle. So, the target is to have 1 million electrified cars on global roads by 2025. I would like the Indian market to contribute adequately to that number," he said. The company's other sustainability targets include removing single-use plastics from all its offices across the world, and using 25% recycled plastics in every new car from 2025 onwards.