BPCL, HPCL, IOCL tank up to 29% as government cuts fuel prices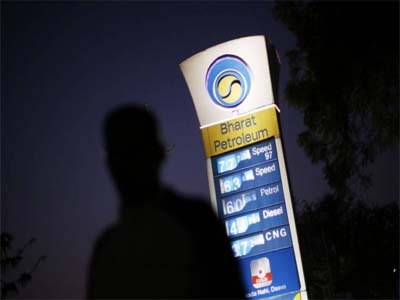 Shares of state-owned oil & gas companies, including oil marketing companies (OMCs), are reeling under pressure falling by up to 29% on the BSE in intra-day deals, extending their Thursday's fall after the government, on Thursday, asked the them to absorb a Re 1 a litre cut in excise duty on petrol and diesel. The government also cut the excise duty on petroleum products by Rs 1.50 a litre with immediate effect. This is the first time in over four years that prices of either petrol or diesel are being controlled.
Among individual stocks, Bharat Petroleum Corporation (BPCL) tanked 29% to Rs 239, while Hindustan Petroleum Corporation (HPCL) and Indian Oil Corporation (IOCL) plunged 25% each to Rs 165 and Rs 106, respectively on the BSE in intra-day trade so far.
Oil and Natural Gas Corporation (ONGC), Oil India and Gail (India) have skid in the range of 14% to 20% on the BSE. All these stocks were trading at their 52-week lows on the BSE.
At 09:29 am, the S&P BSE Oil & Gas index slipped 11% or 1,466 points to 12,441, as compared to 0.37% decline in the S&P BSE Sensex. The oil & gas index hit a 52-week low of 12,040 on the BSE in intra-day trade today.
A sharp decline in stock price of these companies has seen their combined market capitalisation (market-cap) fell by Rs 840 billion or 15% in today's trade so far. These six companies have lost Rs 1.26 trillion market-cap in two days.
"While the move is certainly benign for the consumer, the modality of the same has negative fallout for the OMCs. As if the covert price control (during elections) was not enough to dampen the investor sentiments, re-introduction of under-recovery, in our view, could further dent investment environment," according to analysts at Antique Stock Broking.
"In our view ascribing a burden of Rs 1/ltr (for both petrol & diesel) has meaningful negative ramifications for OMCs, both in terms of earnings as well as the market perception of valuation. We feel that while the earnings impact could still be moderated by inventory gains, adjustment of dealer margins and subsequent drop in crude oil prices, the dented market perception would be hard to repair", the brokerage firm said in a sector update.
"We downgrade IOCL/ BPCL/HPCL to HOLD (from BUY) and reduce target price to Rs 155/Rs 335 and Rs 210, as we revert back to pre-deregulation valuation multiples and pare earnings to reflect Rs 1 per liter under-recovery in petrol and diesel," it added.