Oil marketing companies slip 2% to 4%, HPCL, BPCL hit 52-week lows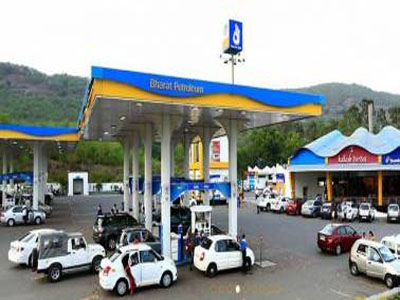 Shares of oil marketing companies (OMCs) were trading lower in the range of 2% to 4% on the BSE in early morning trade on Thursday after global crude oil prices hit 3-year high on Wednesday.
Hindustan Petroleum Corporation or HPCL (down 4% at Rs 308), Bharat Petroleum Corporation or BPCL (down 3.7% at Rs 390) and Mangalore Refinery & Petrochemicals or MRPL (down 3% at Rs 104) have hit their respective 52-week lows on the BSE in intra-day trade today.
Indian Oil Corporation (IOC) trading 2% lower at Rs 161, too quoting close to its 52-week low of Rs 159 touched on April 12, 2018.
Oil futures jumped nearly 3% on Wednesday on a decline in US crude inventories and after sources signalled top exporter Saudi Arabia wants to see the crude price closer to $100 a barrel, the Reuters report suggested.
Brent crude futures settled at $73.48 a barrel, up $1.90, or 2.7%. U.S. West Texas Intermediate crude futures gained $1.95, or 2.9%, to settle at $68.47 a barrel, their highest since late 2014, added report.
Meanwhile, oil exploration & production companies such as Oil & Natural Gas Corporation (ONGC), Oil India, Aban Offshore, Jindal Drilling & Industries, Selan Exploration Technology and Hindustan Oil Exploration were trading higher in the range of 1% to 3% on the BSE. On comparison, the S&P BSE Sensex was trading 0.29% higher at 34,433 points.
Analysts at JP Morgan expect OMCs to report sharply lower quarter on quarter earnings in March quarter (4Q) on the absence of large inventory gains that were seen in 3Q, although inventory should still be a positive contributor. Overall underlying profitability should be solid given the improvement in marketing margins, and steady refining margins.
However from a stock price perspective, we do not expect results to have much of an impact as investor concern on the OMCs center around potential capping of fuel prices in an election year and IOCL/BPCL investing in GAIL, the brokerage firm said in Q4 result preview.
ONGC had a weak 3Q on sharply higher DDA expense write-offs which had stood at near 4-year high. As these expenses normalize, and higher crude realizations flow through, we forecast ONGC to report 20% year on year jump in profit after tax in 4Q. ONGC stock price has de-linked from crude price as the crude rally has not flowed through to ONGC stock price, added report.