India is becoming a case of missed opportunities: Mercedes Benz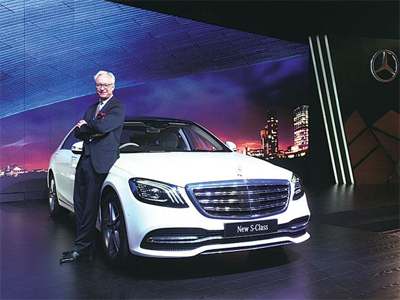 The Indian luxury car market is becoming a tale of missed opportunities with frequent changes in tax policy, the country's biggest luxury car player, Mercedes Benz, has said.
Sales of luxury vehicles account for just 1 per cent of the Indian market of over 3 million cars a year. This is low against an average 3-5 per cent in most other countries.
Referring to frequent changes in taxes, Roland Folger, Mercedes Benz MD and CEO in India, said these took away from the growth potential the Indian market truly had. "That is why we call it missed opportunities. We believe India has a lot more to offer in the luxury segment than what we see at the moment," he said.
In Folger's home country, Germany, the luxury car segment is over one-fourth of the market.
Folger, who took charge of the India unit of the German luxury car maker in October 2015, came up against his first challenge two months later when the
Supreme Court banned sales of diesel cars with engine capacity of 2,000cc and above in the national capital region. The ban was lifted in August 2016 but a green cess of 1 per cent was imposed on these vehicles. The ban, along with demonetisation in November 2016, stunted sales growth. Mercedes Benz's sales declined 2 per cent to 13,231 cars in 2016.
According to Folger, the implementation of the goods and services tax from July 2017 was also another instance of a missed opportunity as far as the luxury car segment was concerned.
In the Union Budget early this month, the government raised the customs duty on completely built units of cars from 20 per cent to 25 per cent, a move that will make imported luxury cars expensive. The customs duty on completely knocked down vehicles that are assembled locally has been increased from 10 per cent to 15 per cent, also affecting sales of luxury cars. Luxury car makers will pass on the increase.

"We have a certain promise on our investments from Germany that we need to deliver a certain profitability and there is very little leeway. That forces us to adjust our prices," said Folger.

He said for every car sold in India, seven cars were sold in China. "But if you compare the luxury segment, China sees sales of 57 cars for every one sold in India. So you see this disparity between the two countries. Even if we acknowledge the higher income level in China, this gap is abnormally high," he added. Asked about the company's prospects in 2018, Folger said there would be growth but it would depend on decisions the government took and their impact on prices.