PM Modi attacks Congress-led Rajasthan over high crime rates, corruption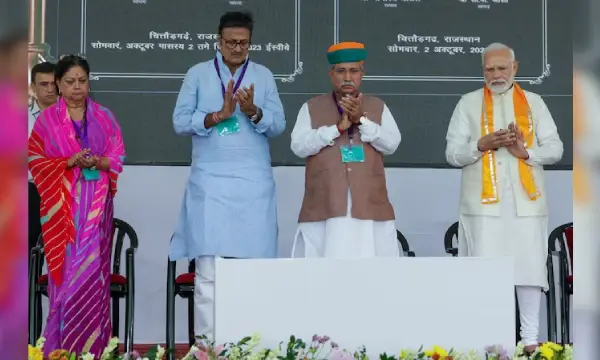 Prime Minister Narendra Modi, addressing a rally in Chittorgarh, criticised Rajasthan's Ashok Gehlot-led Congress government, highlighting concerns about corruption and women's safety. He expressed pain over the high crime rates in the state, particularly crimes against women, riots, and atrocities against Dalits and backward classes. The Prime Minister stated that the Congress has made these issues a tradition in Rajasthan. He also added that they would take action against the "corruption" of the Congress-led state government once the Bharatiya Janata Party (BJP) wins the upcoming state assembly elections in Rajasthan.

"It pains me that the state tops the crime list, in incidents of crime…which state comes on top, in riots…which state is on top, in incidents of stone-pelting…which state is on top, in incidents of atrocities against women and Dalits, which state has the worst name…is this why you voted for Congress?" he asked.

He assured the people that all public schemes initiated by the Congress government would continue if the BJP is elected, emphasising that his party would not stop any scheme of public interest but would strive to improve it.

Modi also promised action against corruption and the alleged paper leak mafia if the BJP came to power. The Prime Minister inaugurated various development projects worth over Rs 7,000 crore in Chittorgarh, emphasising the importance of modern infrastructure and Rajasthan's heritage, present strength, and future possibilities. He said only the BJP can bring all-round development in Rajasthan.

"The development of Rajasthan is the biggest priority of the central government," the Prime Minister stated.

Attacking the Congress in the poll-bound state, the Prime Minister said that Chief Minister Ashok Gehlot had "accepted defeat".

He praised the state's potential, referring to it as "trishakti" that strengthens the country. Rajasthan and four other states are set to have elections by the end of the year. Both Congress and BJP have dominated elections in Rajasthan but are yet to announce their candidate lists for the upcoming state polls.