With social distancing policy in place, Maruti Suzuki resumes operations at Manesar plant on single shift basis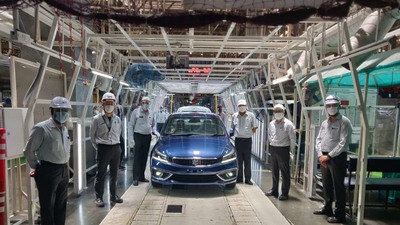 India's largest carmaker Maruti Suzuki on Tuesday resumed operations at its Manesar plant in Haryana after about 50 days of closure due to the coronavirus-enforced lockdown.

The company has initiated the work on a single shift basis.

Maruti Suzuki India (MSI) is the latest carmaker to restart operations in the third phase of the nationwide lockdown which began on May 4 and will last till May 17. The government has allowed the opening of various business during the third phase even as the lockdown, which has significantly impacted economic activity, continues due to coronavirus fears.

Various other automakers like Hyundai, Toyota, Renault and Nissan have also announced the partial resumption of operations in the last few days.

Maruti Suzuki rolls out high selling models like Alto, Swift, Dzire, S-Presso, Ertiga and Baleno from its Manesar plant, some 56 kilometres from Delhi.

The plant has an installed capacity of 8.8 lakh units per annum on a double shift basis. However, this year's production is likely to be significantly low as it lost around 40 working days due to the lockdown.

Around 2500 employees turned up to work on Tuesday and the number is expected to rise from Wednesday, the plant management said.

The company suspended work at both its plants in Haryana -- Manesar and Gurugram -- on March 22 before nationwide lockdown on May 25 to fight coronavirus pandemic came into effect.

The operations at Gurugram facility which rolls out models like S-Cross, Vitara Brezza, Ignis and Super Carry light commercial vehicle is yet to start.

The staff is also returning to work at Gurugram plant and the preparations are being made to start the production facility soon.

The production at Manesar plant has started with arrangements for social distancing. While there are usually four workers at a single table, the new arrangement has one only on each table. The same restriction is being followed for lunch and tea breaks.

Besides, full-body sanitisation is being done and entry and exit gates. For this, a specially-built sanitisation tunnel has been installed at the gates and every employee has to go through it. Body temperatures of each employee is also being checked at entry and exit.

All the workers are required to wear masks and gloves.

Maruti Suzuki currently has a market share of around 54% in the domestic passenger vehicle segment with its two facilities in Haryana having the capacity to produce 15.5 lakh vehicles per annum.

The company is also gradually opening its dealership stores and has so far opened 600 following the relaxation of guidelines by the government for the third phase of lockdown on May 4. Maruti Suzuki has around 3,080 dealerships across 1,960 cities and towns in the country.