Stock markets may be wobbly, Asian shares down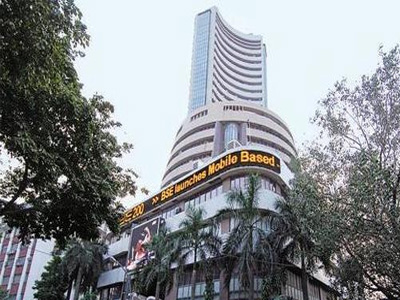 Mumbai: Indian stock markets may be tepid on Wednesday as global peers are weak. Asian stocks fell on Wednesday after US lawmakers called for an impeachment inquiry of President Donald Trump, increasing the prospects of prolonged political uncertainty in the world's largest economy.
MSCI's broadest index of Asia-Pacific shares outside Japan was down 0.2%, Japan's Nikkei fell 0.55%, while Australian shares fell 0.66%.
Ahead of a bilateral meeting with Prime Minister Narendra Modi, US President Donald Trump said the two countries will soon sign a limited trade accord, while a free trade agreement will be signed later, according to a Mint report. The bilateral relationship between the two countries has deteriorated under the Trump administration, with the US withdrawing zero duty benefits to Indian exporters worth $5.6 billion and India imposing retaliatory tariffs on 29 products imported from the US.
In India, banking shares will be in focus after the Reserve Bank of India (RBI) put severe curbs on Punjab and Maharashtra Co-operative (PMC) Bank on Tuesday, including on cash withdrawals, amid a probe into accounting lapses, sparking speculation that the regulator may force a management change through a merger. Cash withdrawals were capped at ₹1,000 per account for six months, spreading panic among depositors. PMC Bank has also been barred from making fresh loans and taking deposits.
Meanwhile, India Ratings and Research Pvt. Ltd said that mergers proposed in public sector banks hurt credit growth due to asset-quality pressures. The rating agency had placed most public sector banks under "rating watch evolving" on 4 September, stating that credit growth could take a back seat as the merged entities would need to "harmonise" their stressed accounts as well as manage any asset-liability mismatch.
Among currencies, the dollar nursed losses against most major currencies as the impeachment inquiry of Trump set the stage for a fierce battle between Democrats and Trump's Republican Party over whether the president sought foreign influence to smear a political rival. Trump has denied the claims. It is uncertain whether the results of the inquiry will lead to an impeachment because of Trump's support in the Republican-controlled Senate.
The dollar index measuring the greenback against a basket of six major currencies was little changed after falling 0.3% on Tuesday. Sterling traded at $1.2485, down 0.1%, having trimmed some of its overnight gains made following the UK court ruling.
Sterling remained broadly supported in Asia after the UK Supreme Court ruled Prime Minister Boris Johnson's decision to shut down parliament was unlawful, a move that could thwart his plan to pull Britain out of European Union next month with or without a deal. Sterling traded at $1.2485, down 0.1%, having trimmed some of its overnight gains.
In response to the UK Supreme Court's decision, Johnson said he disagreed and vowed that Britain would leave the EU by 31 October deadline, come what may. Calls for Johnson's resignation could grow, which would cast even more uncertainty over how the UK would complete its divorce from the EU.
US stock futures rose 0.19% early in Asia on Wednesday, but the mild gains are unlikely to improve sentiment for Asian shares. The push for an impeachment inquiry of Trump and disappointing US economic data weighed on Wall Street on Tuesday, dragging the S&P 500 0.84% lower, its biggest daily decline in a month.
Oil futures declined, reflecting concerns that political uncertainty and US-China trade friction will weigh on global economic growth.
US crude futures dipped 0.73% to $56.87 a barrel as Trump sharpened his criticism of China's trade policies in a speech at the United Nations, dealing a blow to hopes for a resolution to the US-China trade war. China is a major consumer of commodities, but the trade war has caused its economic activity to slow.
The yield on benchmark 10-year Treasury notes rose to 1.6456%. The two-year yield also rose to 1.6156% as Treasury prices gave some of their gains posted in US trading.