Equities rise in early trade on Asian cues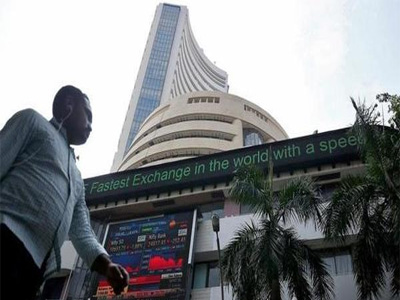 Mumbai: Indian stock markets rose in early trade on Wednesday tracking gains in Asian equities. At 11.25 am, benchmark Sensex gained 0.4% at 37288.64 points and Nifty was up 0.4% at 11045.20 points.
The S&P BSE Mid-Cap index was up 0.71%. The S&P BSE Small-Cap index was up 1.04%. Both these indices outperformed the Sensex.
The market breadth, indicating the overall health of equities, was strong. On the BSE, 652 shares rose and 262 shares fell. A total of 54 shares were unchanged.
Indian stock markets were shut on Tuesday on account of Muharram.
Fitch Ratings on Tuesday cut India's growth forecast to 6.6% for the current year, down from 6.8% in the previous year, but said
GDP growth is likely to rebound to 7.1% next year. The rating agency said the government has only limited room to ease fiscal policy because of high debt.
Among stocks, Tata Motors gained 3.28% after Felix Brautigam, chief commercial officer of Jaguar Land Rover, said the company has seen a second month of consecutive growth in China even as global market remains challenging. Tata Motors' wholly-owned UK-based unit Jaguar Land Rover (JLR), post market hours on Monday, said its retail sales in August fell 6.7% year-on-year to 34,176 vehicles.
Yes Bank gained as much as 7.77% to ₹68 per share on the BSE on news mobile payments major Paytm-owner One97 Communications is in talks to pick up a stake in the private sector lender. In a clarification to the exchanges, the bank said "in the usual and ordinary course of its business continues to explore various means of raising capital/funds through issuance of securities to diverse set of investors, in order to meet its business/ regulatory requirements".
Among the Asian Indices, Hong Kong's Hang Seng Index rose 1.35%, Singapore's FTSE Stratits Times Index rose 1.02%, Japan's Nikkei 225 Index rose 0.83% and Korea's Kospi Index rose 0.63%.
US stocks ended on a mixed note on Tuesday, with a rally in energy and industrial shares countering a drop in the technology and real estate sectors as investors favoured value over growth.
Eighteen of the 19 sectoral indices compiled by BSE Ltd gained, except for Teck that fell 0.27%. Gains were led by BSE Metal index gaining 1.92% followed by BSE Auto gaining 1.22%.