Two to tango: Mahindra, Ford to joinly develop 9 SUVs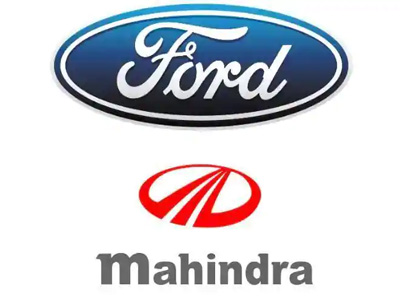 Mahindra & Mahindra (M&M) and Ford India will jointly develop nine sports utility vehicles (SUVs) starting 2020, with a combined investment of over $600 million (`4,300 crore approx), people aware of the development said.
While six models, including compact and large size SUVs, will be shared by both the companies under a rebadging format, three will be made exclusively for Ford, which will be used by the company in both India and export markets. The arrangement will work over the next 6-8 years and more investments will be poured in, if needed.
All the vehicles will be made by M&M, as part of the product-sharing, technology and distribution agreement between the companies, one of the persons told FE. Majority of investments is to be done by M&M to develop the vehicle architecture and engine, while Ford India is likely to pump in nearly $200 million, apart from its own investment, to change the design and body type of the vehicles to avoid cannibalisation.
While the cash contribution from Ford is less, a source said M&M could possibly use one of the manufacuring plants of Ford, as the utilisation levels is much less than the capacity. The local arm of the US carmaker has two plants in India — Sriperumbudur and Sanand — with a total capacity of nearly 4.4 lakh units annually. However, the company produces nearly 2.7 lakh units annually, out of which nearly 1.8 lakh units on an average are exported.
Ford and Mahindra first announced an alliance in September 2017 to explore possible cooperation on products, technology and distribution. Subsequently, in October 2018, they signed two agreements on powertrain sharing and connected car solutions. The two companies had announced plans for a C-segment SUV in April this year.
While M&M did not reply to emails, Ford India said: "We don't comment on market speculations and remain committed to growing the Ford brand in India." Without confirming the latest developments, the company said: "Teams from both companies continue to collaborate and work together to develop further avenues of strategic cooperation that help achieve commercial, manufacturing and business efficiencies."
The move is expected to drastically bring down the cost of manufacturing for both carmakers and ensure economies of scale. Ford, which has not been able to hold ground in the Indian market even after 20 years of operations, is planning to leverage its partnership with M&M for global markets.
With a market share of just 3% in India and no major breakthrough, Ford is looking to make up from the emerging markets. As part of the strategy for the expansion in the emerging market, Ford will export most of the products sourced from M&M, a source said. Ford will benefit from the low cost of manufacturing by M&M, which otherwise had an expensive manufacturing model.
Gaurav Vangal, country head, production forecasting at IHS Markit, said the development may lead to effective cost-cutting exercise and benefit both the companies. "It's a marriage of two opposites. While Ford will learn the Indian way of doing business through low costs, M&M will have global learning which will raise the standard of the vehicles," he added.
With regards to rebadging of vehicles by the companies, Rakesh Batra, national leader, automotive sector at EY India, said while historically rebadging hasn't worked in India, it is a wait-and-watch scenario for M&M and Ford. "Customers are very aware now and it is to be seen whether this model works with them," he said.