Made-in-India electric cars from Mercedes-Benz soon as it bets big on EVs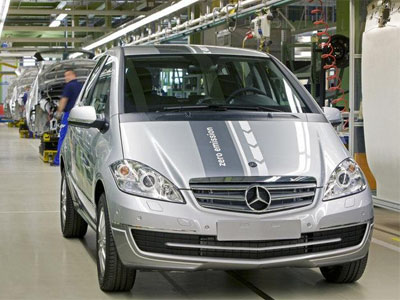 German automaker, Mercedes-Benz is betting big on electric cars globally and also believes that electric cars will play a crucial role as India gets ready to adapt to future of mobility. A report on TOI confirmes that Mercedes-Benz has plans to manufacture electric cars from its plant in Chakan, Pune. The company has already confirmed that it will launch on BSVI compliant diesel engine cars and SUVs in India and now expect many a range of hybrid and electric cars from Mercedes-Benz in India soon.
Mercedes-Benz is the number one luxury automaker in India and strongly believes that Indian will be one of the key markets for EVs in a next few years as government's focus in reducing oil import bill and reduce the pollution will further advance the rollout of eco-friendly vehicles. Mercedes-Benz India is also the first carmaker in India to launch BS-VI compliant electric cars.
Michael Jopp, VP Sales and Marketing, Mercedes-Benz India had said, "going forward, all the diesel engines we plan to launch in the country will be BS VI compliant only. The government deadline of April 2020 does not pose any challenge for us as we are way ahead of that timeline."
The report on TOI further quotes Jopp saying that Mercedes-Benz India will be investing in local manufacturing on electric vehicles and is a part of its long-term strategy in India. "When it happens, we would certainly manufacture them at our plant in Chakan, alongside the combustion engine vehicles," he said. In order to quickly adapt to electric vehicles, Mercedes-Benz says it's important for the government to provide a good eco-system and boost charging infrastructure in the country.
The company also says that initially, the import duty for hybrid and electric cars in India should be 'lenient' to achieve volumes which will further encourage many companies to invest in local manufacturing.
At the Auto Expo 2018, Mercedes-Benz showcased its EQ electric SUV concept in India and will start its global sales in 2019. The company also has many hybrid and plug-in hybrid vehicles in its portfolio globally and also SMART brand that deals with small electric cars.
In 2017, Mercedes-Benz India sold a total of 15,330 units to record 16 per cent sales growth over 2016. In the first quarter of the current year, the company has already sold 4,556 units, a 25 per cent growth over the same period of last year.