Mercedes-Benz to produce only BS VI compliant diesel models in India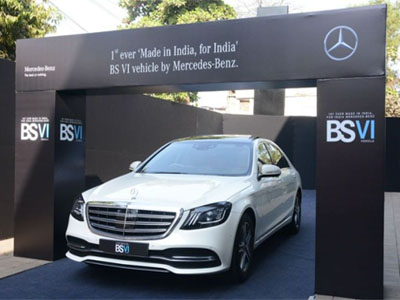 German luxury car maker Mercedes-Benz said on Monday that all its diesel models in India from now on will have engines which comply with Bharat Stage (BS) VI emission norms.
The company, which launched Mercedes-AMG S 63 Coupe starting at Rs 25.5 million, has already launched one BS VI compliant diesel model S-Class ( S 350 d) in the country in February this year.
"Going forward, all the diesel engines we plan to launch in the country will be BS VI compliant only. The government deadline of April 2020 does not pose any challenge for us as we are way ahead of that timeline," Mercedes-Benz India VP Sales and Marketing Michael Jopp told PTI.

The company also plans to upgrade its petrol models to BS VI going ahead, he added.
"From a volume perspective, we consider diesel more important as 75 per cent of our current sales come from diesel models. That is why we are focussing on diesel engines first," Jopp said.
When asked if the technology upgrade would also lead to increase in product prices, Jopp said: "There will be a price increase for the new cars because of the additional cost of the technology."
He said however that the company is yet to work out the exact details of the price increase for future models.
Mercedes Benz assembles all its diesel engines at its Chakan (near Pune) facility. The company has already invested around Rs 22 billion on the plant till date.
Jopp said the company's BS VI diesel engines can run on BS IV fuel which is currently available across the country.
"The technology which we are using in our engines is superior and it does not require BS VI fuel. So we can sell models across the country. We have extensively tested our vehicles with BS IV fuel last year to make sure there are no issues," Jopp said.
Bharat Stage VI emission norms are set to be implemented in India from April 2020.
When asked about sales growth expectations in the country, Jopp said the company expected to log in double-digit growth this year as well.
Last year, the company had sold 15,330 units to record 16 per cent sales growth over 2016. In the first quarter of the current year, the company has already sold 4,556 units, a 25 per cent growth over the same period of last year.
On the latest launch, the company's 7th product introduction in the country during the year so far, Jopp said: "With the launch of AMG S 63 Coupe, we are further strengthening our lead in the performance and dream car line-up in India."
The model comes with a new 4.0-litre V8 bi-turbo engine which can help the sedan accelerate from standstill to 100 Km/h in 3.5 seconds with a top speed of 300 km/h.