From ITC to Dabur, plastic waste control top priority for FMCG firms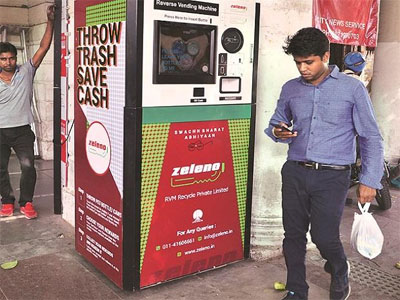 If demonetisation and goods and services tax (GST) gave sleepless nights to consumer goods makers till early-2018, for the past few months it has been plastic packaging materials that are ringing alarm bells for these firms.
The issue of pollution caused due to the non-degradable material is keeping consumer goods majors — from ITC and Dabur to Nestlé and PepsiCo — on their toes.
While the matter had been flagged by environmentalists years ago, the Centre is now scurrying to put curbs on untreated plastic waste — most of which is produced by organised fast moving consumer good players (FMCGs).
The governments in at least five states — Tamil Nadu, Maharashtra, Uttarakhand, Punjab and Gujarat — have declared a ban on single-use plastic materials with varying timelines. And at the central level, a joint body — comprising the urban development ministry and ministry of environment and forest — is acting fast to finalise the extent of responsibility manufacturers would have to take based on the extent of plastic they use in packaging. It has already pitched for concrete plans from producers of consumer goods through the Central Pollution Control Board.
The onus of waste management lies on the manufacturers under the extended producers' responsibility programme, which fall under the Plastic Waste Management Rule, 2016. And now, the quantum of responsibility is being negotiated between the private players and the authorities.
Siraj Chaudhry, chairman, Cargill India, said, "Challenges for companies like us operating nationally is that many states are bringing out different policies on plastic which complicates compliance. It will be easier if there is a unified plan pan-India for plastic waste management."
Individually, several large FMCG players like ITC, PepsiCo, Reckitt Benckiser (RB), Nestle and Dabur, among others, have set the ball rolling.
According to a Nestle India spokesperson, the company has reduced the use of plastic by 1,500 tonnes last year, apart from installing Gasolyser in its plant that converts plastic into fuel. "Nestlé India has collaborated with industry bodies and organisations like Indian Pollution Control Association (IPCA), NEPRA and Saahas Waste Management to conduct education and awareness programmes, workshops, street plays for waste pickers, waste dealers, traders and aggregators. We are also initiating the second phase of the extended producer responsibility (EPR) that includes collection, segregation and disposal of waste in a pact with other stakeholders in 12 states," he said.
FMCG major ITC Ltd has said that over 99 per cent of solid waste generated in ITC's factories is recycled. Over the next decade, the company is planning to make 100 per cent of its product packaging reusable, recyclable or compostable.
A spokesperson from Reckitt Benckiser said, "We will continue to use plastic in packaging and ensure by 2025 that at least 25 per cent of its content is recycled plastic. By 2025, 100 per cent of plastic packaging will be recyclable or reusable."
Citing its tie-up with IPCA and NEPRA, A. Sudhakar, head-CSR, Dabur India said, "Our plastic recycling initiative covers nine states and is being expanded to more states. A separate initiative is also being implemented particularly for recycling Tetra Pak consumer waste."
PepsiCo said that all its packaging is recyclable or energy recoverable. It is planning to pilot the first-ever 100 per cent compostable, plant-based packaging for Lay's and Kurkure snacks products this year.
Chaudhry said Cargill has reduced use of plastic by 27 percent in packs of Nature Fresh Atta.
But the current negotiation between the private players and the government bodies has further complicated the situation, with various industry lobby groups in action to strike a deal. Despite PETs being a single-use category packaging material, sources say, the government has agreed to keep it out of the fold. Other branded packaging materials like sachets and wrappers for confectionaries too may get exempted. Rather a middle ground is being worked out which will allow large branded players to continue using such materials in exchange of a cess. However, that may increase cost burden on consumers.
According to P C Joshi, secretary general of the policy advocacy industry body for PETs - PACE, state governments like in Gujarat are installing reverse vending machines to recycle plastic. The machines that are also being installed by several NGOs that work with private players, pays a nominal amount of Rs 1-2 through electronic transfer to consumers who deposit PET bottles. And for rag-pickers, special machines are being worked out that dispense cash rewards in exchange of plastic waste.
"The organized plastic recycling industry is pegged at Rs 50 billion a year. Last year 9,70,000 tonnes of PETs were produced out of which 80 percent of PETs were recycled in India. The government's latest push is to ensure that the rest of it also recycled", said Joshi.