Aban Offshore, Oil India up over 3%; HPCL, BPCL, IOC down over 5%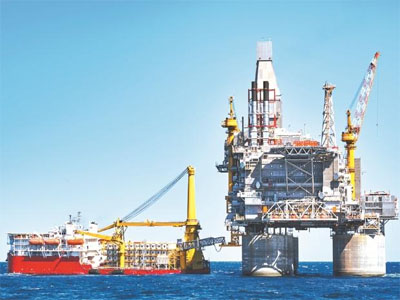 Shares of oil exploration, equipment and services companies were trading higher on the bourses by up to 7% on Wednesday in otherwise subdued market after on higher crude oil prices.
Oil and Natural Gas Corporation (ONGC), Oil India, Aban Offshore, Jindal Drilling & Industries, Hindustan Oil Exploration and Deep Industries were up in the range of 3% to 7% on the BSE. On comparison, the S&P BSE Sensex was down 0.30% at 33,780 points at 10:07 AM.
Oil prices rose more than $2, or over 3%, on Tuesday as investors grew more confident that a brewing trade dispute between the United States and China may be resolved without harming the global economy, the Reuters report suggested.
Higher crude prices will result in higher realisation for these oil exploration companies and result in increased profitability for oil exploration companies.
Meanwhile, oil marketing companies (OMCs) such as Bharat Petroleum Corporation (BPCL), Hindustan Petroleum Corporation (HPCL) and Indian Oil Corporation were down between 5% and 7% on concerns over marketing margins and rising oil prices.
According to TV channel reports, the government is said to ask OMCs to absorb Rs 1 liter price hike.