Railways plans Rs 10 lakh-crore high-speed train corridors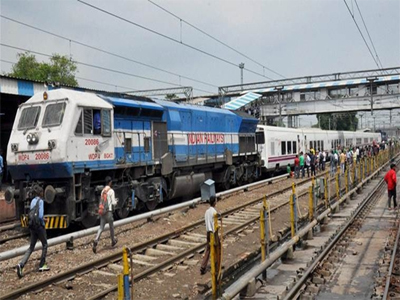 NEW DELHI: Indian Railways would soon announce a Rs 10 lakh-crore high-speed train corridors construction plan to connect all major cities in the country, covering almost 10,000 kilometres, along the lines of the government's Bharatmala highways development programme.
"The plan would be announced in April," a top rail ministry official said. "We'll unveil the routes that would be connected along with the funding mechanism," the person told ET.
Trains would be able to run at 200 km per hour on the new rail lines that would come elevated atop the existing or upcoming national highways or on rail land that runs parallel to existing rail routes, the official said.
Railways would come out with large tenders, inviting all global majors, to keep the cost of construction minimal. The government plans to build double lines on single pillars to halve the cost of construction from Rs 200 crore per km to Rs 100 crore per km. Also, light-weight aluminium coaches would be specifically designed for trains to be run on electric traction.
The mechanism of funding would most likely be borrowings from financial institutions and multilateral agencies along with monetising land bank. "The operational profitability of such projects is high as the revenues would also come from non-fare box such as commercial exploitation of stations as metro has done," the official said. Railways minister Piyush Goyal has asked his officials to work on speed, scale and skill to achieve early implementation of these projects.
The government is currently constructing a 534 km-long bullet train corridor between Mumbai and Ahmedabad at a cost of over Rs 1 lakh crore. The project is likely to be completed by the end of 2022.
Feasibility studies for various other corridors including Delhi-Chandigarh, Delhi-Mumbai, Delhi-Kolkata and Bengaluru-Chennai have already been done.
At the recently held Economic Times Global Business Summit, Goyal had laid down his blueprint for the transformation of railways in country that included bringing high speed technology to the country along with overhauling the signalling network on rail routes.