Mercedes-Benz unveils India's first BS-VI car, promises better fuel economy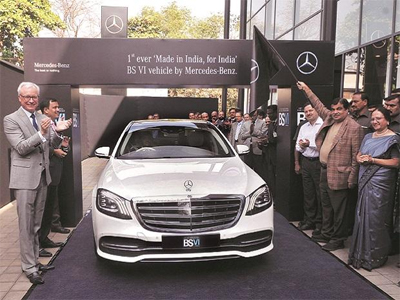 Mercedes-Benz unveiled the BS-VI variant of its flagship S-Class on Friday. The luxury carmaker became the first in India to show preparedness for the commercial launch of a BS-VI compliant model, two years ahead of the regulation.
Roland Folger, managing director (MD) and chief executive at Mercedes-Benz India, said with government incentive, the implementation of the BS-VI norms can be expedited. Mercedes-Benz claimed the new engine produces 68 per cent less nitrous oxides, 82 per cent less particulate matter and betters fuel efficiency by six per cent than the outgoing model.
The car, which can run on BS-IV fuel, is available in the country. As part of the fuel emission road map, India's auto industry will leap frog to BS-VI from 1 April, 2020.
"I hope the government understands this, the adoption of Bharat Stage VI can be massively accelerated if you incentivise those companies — it will encourage others to follow us," said Folger, clarifying that he was not seeking incentive for Mercedes as it would have anyways done it. It would have helped other manufacturers as well, he added.
However, Nitin Gadkari, minister of road transport & highways, shipping and water resources, river development & Ganga rejuvenation said, "There's no incentive required. The market is an incentive," said Gadkari, adding the Mercedes had set an example for other manufacturers.
"It will get good market as people will prefer them as compared to others," he added. The Union minister said he hoped to see vehicles running on alternative clean fuels like ethanol, methanol, bio-fuels and electric. The reduced GST rate on bio fuel and electric vehicles to 12 per cent, as against 48 per cent on petrol models should be a good starting point for automakers and it doesn't need further incentive. "This is the starting point," said Folger. Each and every model Mercedes rolls out this year will be BS-VI compliant. The idea behind doing it from this year is to ensure a smooth transition to the next stage. If the company has launched a model in the middle of this year with BS-IV, it would have had to change the line up again next year to meet the 2020 regulations.
"We would rather go full fledged now," said the Mercedes-Benz MD.
The switch to the stricter emission norms will now help the firm in saving costs it as it doesn't need to have BS-IV models anymore. It will also mean that the India subsidiary can launch the models sooner than later in India after its global debut as its product line up will be better aligned to Europe and it doesn't have to create an "artificial variant" anymore.
Meanwhile Gadkari said the petroleum ministry had taken the responsibility to offer the BS-VI grade fuel ahead of time.
"They have said they are ready to supply the fuel in Delhi," he said.
Meanwhile commenting on the India's electric mobility mission plan, the minister said, "You will see a big change in the next one year." Nagpur will get 800 more electric taxis next month.
By end of this month, two big companies are launching their electric bikes there. Close to 20,000 charging stations are coming up soon. "There's no incentive required. Anything good in the market will be in demand."